'Kando' is a Japanese word for the simultaneous feelings of deep satisfaction and intense excitement that we experience when we encounter something of exceptional value. Yamaha believes that Kando can be generated by products and services that surpass customers expectations.
Yet for all the emotional elevation Kando provides, the feeling can be short-lived, and people may be touched only for a moment. Therefore, Yamaha's commitment is to make sure that all Yamaha products and Yamaha services genuinely thrill, impress, and touch customers hearts - the first time and every time.
New riders of motorcycles are familiar with the current models but may not be aware of the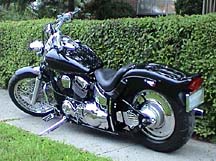 history of a given motorcycle manufacturer. Someone unfamiliar with motorcycles associates the name Yamaha with musical instruments.
The Yamaha Motor Co., Ltd. was founded in 1955 after it separated from Nippon Gakki. The first Yamaha designed motorcycle was produced in 1957 and was a twin-cylinder model called the YD-1. Yamaha began exporting to the United States in 1960. In 1963 Yamaha made the TD-1 motorcycle that was a 250cc road racing machine. Yamaha won its first road racing championship in 1964. Thus began a road racing tradition that assisted Yamaha to become well known and drove many new customers to its showrooms. Many groups of loyal Yamaha customers have developed over the years. Yamaha is the second largest Japanese motorcycle company. For 2001, Yamaha has 37 models divided into four groups: Touring/Cruisers with 12 models, Super Sport with 4, Competition and Off-Road with 14, Dual-Purpose with 2 and Scooters with 5 models.
Whichever model of motorcycle you choose it is well known that Yamaha Motor Company succeed with their vision and philosophies, total honesty towards the customer and making products that hold their own enables the company that serves people in thirty-three countries, to provide an improved lifestyle through exceptional quality, high performance products.
Other Links
Yamaha Parts
Yamaha Accessories
Yamaha Apparel
Yamaha Security Systems
Yamaha Information Articles
Yamaha Motorcycle Dealers