Motorcycle Events
MOTORCYCLES
---
---
---
---
---
---
---
PARTS-ACCESSORIES
---
---
---
---
---
---
---
---
INFORMATION
---
---
---
---
---
---
COOL STUFF
---
---
---
---
UTILITIES
---
---
---
---
---

Motorcycle Events, Shows & Rides
Review motorcycle events, shows, rides and related displays on Harley Davidson and Japanese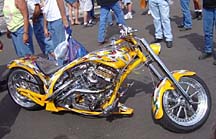 motorcycles. You will find great information on motorcycles, shows, clubs, events and information for all your specific motorcycle needs.
Custom Motorcycle Products.com offers information and products on these types of motorcycle events. Motorcycle enthusiasts want to learn about them, join them, participate in them and dress up their bikes and enhance their appearance using chrome parts and accessories. We offer several event articles, products and related information, pictures, articles, links and much more to inform you on motorcycle events, clubs and shows.
Motorcycle Events.com is on line courtesy of the folks at the Motorcycle Events Association in Pierre, SD. They also put out Motorcycle Events Magazine but I am listing them under events because their web site has an excellent events calendar. It includes a search function, dates of events, sponsors, phone numbers and details. www.motorcycleevents.com
The Sturgis Rally website is where to go when you decide to go to the Sturgis Rally and need to know the schedule or see if there is any chance of getting a room within 100 miles; There seems to be an official Sturgis site www.rally.sturgis.sd.us as well as an unofficial Sturgis site www.sturgis-rally.com. Both are very good and full of information

The Laconia Rally www.laconiamcweek.com in New Hampshire is a favorite. Charlie St. Clair has been the executive director for quite a few years. He has done a great job promoting this rally and he gets a lot of the credit for it growing as it has the last few years.

Daytona's spring bike week has been a tradition since 1937 when the Daytona 200 was first run. The race was originally run on a course that took riders north on the sandy beach, through a tight turn onto the paved road for the trip south and a tight turn back onto the beach to start the loop again. By 1961, the race was moved onto the speedway that had just been built. Of course, where there was a race, there was a party and that is how bike week go started. When I first went to Daytona, there were still sand drags on the beach by Ponce Inlet, there was no charge to ride the beach, Beach Street was a dead part of town and you could still party at the Iron Horse downtown. A lot has changed but it is still one of the main events. You can get lots of good information at the official site www.daytonachamber.com. Another site for bike week is www.bikeweek.com.

Biktoberfest www.biketoberfest.com in Daytona Beach Fl. It is just like we've all heard; all of the same things to do as bike week in March, it is just a lot easier to get around. The weather is also just right.

Loveride www.loveride.org; the fund raising one day ride put on by Glendale, CA. H-D every November that attracts many celebrities and more than 20,000 participants.

Laughlin River Run www.laughlinriverrun.com every April, Laughlin, NV., This event can seem a bit like a trade show at times but it can be fun being on the Colorado River as it goes through the middle of a dessert. There are some street drags at the Avi Hotel and they don't have the police road block into the old gold mining town of Oatman.

The Four Corners Iron Horse Motorcycle Rally www.fourcornersrally.com takes place each year in Ignacio, Colorado, near to where four states, Colorado, New Mexico, Arizona and Utah, meet each other at a single point. This little town in the middle of the Southern Ute Indian Reservation lights up each year as 30,000 bikers converge there for labor day weekend.

The Run for the Wall www.rftw.org converges on Washington, DC each Memorial Day week-end from separate rides, from all over the country. It is a very moving experience to ride that last stretch from the Pentagon to the wall with tens of thousands of motorcycles. As for emotions though, it is easily topped by what you experience as you walk along the wall . This is a great event.

The Hollister biker Rally www.hollisterrally.com each 4th of July week-end in Hollister, CA started up in 1997. There wouldn't be an event if it weren't for what happened there back in 1947, or if Marlon Brando hadn't immortalized it in "The Wild Ones" but what the heck, it's a good excuse for a get together.

The Isle of Man TT races www.iomtt.com There is nothing like it in America. The great pubs at what seemed like every corner, the great beer and the incredibly unique character of the event. It all started in back in 1907 and I believe it is the oldest continuously run race in the world. Try to make some time in early June. Their site tells it all.

I haven't been to the Memorial Day week-end Am-Jam event www.am-jam.com in Cobleskill, NY but from what I hear, it has grown and has become quite the event. Details are on their web site.
Custom Motorcycle Products.com offers information on Harley-Davidson motorcycle products, and Japanese motorcycles such as Yamaha, Honda, Suzuki, and Kawasaki motorcycles, parts and motorcycle accessories. Motorcycle enthusiasts want to dress up their bikes and enhance their sophistication using chrome accessories, custom products, unique motorcycle parts and motorcycle accessories. At Custom Motorcycle Products .com we offer several custom motorcycle products, motorcycle parts and motorcycle accessories, information, pictures, articles, links and much more to make your motorcycle look great and your ride feel great!