Review this Suzuki motorcycles page for information on Suzuki motorcycles. You will find great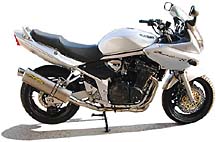 information on motorcycles, parts, accessories and information for all your Suzuki motorcycle needs. Custom Motorcycle Products.com offers information and products on Suzuki motorcycles. We offer several Suzuki articles, products and related information, pictures, articles, links and much more to inform you on Suzuki motorcycles.
2005 Suzuki Motorcycles include bikes within the model ranges of Sportbike, Cruiser, Touring, Motocross, Standard, Dualsport, Off-road, Kids.
American Suzuki Motor Corporation was chartered in the state of California in 1963. The Companyís Motorcycle Division was established one year later to oversee the importation and distribution of Suzuki motorcycles in the United States. In a short period of time, Suzuki established itself as one of the major brands in the rapidly expanding motorcycle marketplace, due to Suzukiís new model innovations, its response to customer needs and the reliability of its products.
In the late 1970ís, the company made a successful jump from building two-stroke motorcycles, upon which it had built its reputation, to marketing four-stroke motorcycles. The GS750 and GS1000 are generally regarded by motorcycle industry journalists as the best standard bikes of the era. The GS1100 eventually came to be known as an all-time classic standard.
American Suzuki Motor Corporation has sold several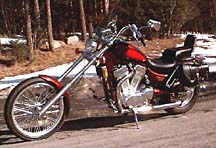 million motorcycles and ATVs in the United States to date. The Motorcycle Division currently offers some 53 motorcycle, scooter, and ATV models for American motorcycle enthusiasts. The Division sells these models in nine classes: Street, Sport, Supersport, Ultimate Sport, Cruiser, Motocross, Off-Road, On/Off Road (DualSport) and ATV. Headquartered in Brea, California, American Suzuki Motor Corporation markets and distributes Suzuki Automobiles, motorcycles, ATVs and outboard motors through it network of over 1,500 dealers across the United States.
American Suzuki Motor Corporation is a wholly owned subsidiary of Suzuki Motor Corporation of Japan. Suzuki Canada Inc. was established in 1973. At that time the company comprised of 30 employees and was oriented towards motorcycle sales. Today, Suzuki enjoys a much more diversified business approach, and is seen by Canadian consumers as a major automotive and motorcycle company.
Just like Yamaha, Honda and Kawasaki motorcycle manufacturers Suzuki offers a wide range of motorcycles for all motorcycle enthusiasts. Their sport bikes, cruisers, touring bikes, motocross, off road, and kids motorcycles. Commemorating forty years of operation in the United States, American Suzuki has created three special edition motorcycles.
Other Links
Suzuki Parts
Suzuki Accessories
Suzuki Apparel
Suzuki Security Systems
Suzuki Information Articles
Suzuki Motorcycle Dealers