Review this Kawasaki motorcycles page for information on Kawasaki motorcycles. You will find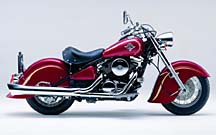 great information on motorcycles, parts, accessories and information for all your Kawasaki motorcycle needs. Custom Motorcycle Products.com offers information and products on Kawasaki motorcycles. We offer several Kawasaki articles, products and related information, pictures, articles, links and much more to inform you on Kawasaki motorcycles.
2005 Kawasaki Motorcycles include bikes within the model ranges of Sportbikes, Streetbikes, Vulcan Crusiers, Touring, Dual Purpose, Motocross, Off-road.
Kawasaki is passionate about motorcycles; this is why the Kawasaki motorcycle is the leading edge of power, performance and exhilaration.
If high-performance sportbikes are your thing, then Kawasaki has the best. Like the Ninja® ZX-10R. With its high out-put engine, ultra-narrow frame and compact bodywork, the "10" is designed to win at the racetrack. And it's so effective that it shut out 12 other bikes to earn the Master Bike Award from the world's top motorcycle magazine editors.
In the slipstream of the ZX-10R is the all-new 2005 Ninja ZX-6R and its racing-homologated sibling, the Ninja ZX-6RR. These ultra-trick sportbikes feature new engines with even more power, advanced chassis designs and the most aerodynamic bodywork Kawasaki has ever created for a Ninja motorcycle.
Like to ride naked bikes? Kawasaki offers a unique combination of aggressive style, minimal bodywork, sportbike performance and comfort for two-up riding.
The new ZZR®600 offers an unbeatable combination of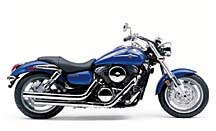 style and performance. With its aluminum chassis, sleek bodywork, dual headlights and 4-into-2-into-1 exhaust system, it's perfect for spirited weekend rides or daily commuting.
For those who need a V-twin rumble, the Vulcan® 2000 cruiser is powered by the largest production V-twin engine in the world. With its incredible torque, low-slung style and mirror-like chrome, it's enough to make passers-by stop for a second look.
For the open road, the 2005 Vulcan 1600 Nomad™ has more chrome, enhanced passenger comfort and a bigger engine for even more torque.
On the motocross front, Kawasaki represents the epitome of Kawasaki 's two-stroke motocross development. It arrives with a powerful new engine and major revisions to the chassis to help keep KX250 racers at the head of the pack.
But that's just a sample of what you'll find in the Kawasaki line-up. Kawasaki motorcycles have a total of 39 motorcycles to choose from, including touring, off-road, and dual-purpose models.
Kawasaki products lead the powersports industry around the globe. The secret of Kawasaki's success is in designing and manufacturing products that offer balanced performance, high quality, reliability and excellent fit and finish. So take a look at what Kawasaki has to offer you in the way of fun and Good Times!
Other Links
Kawasaki Parts
Kawasaki Accessories
Kawasaki Apparel
Kawasaki Security Systems
Kawasaki Information Articles
Kawasaki Motorcycle Dealers